Click Here if you Don't See the Side Panel to the Right
Don't Use PayPal? ... Have It Your Way ;-)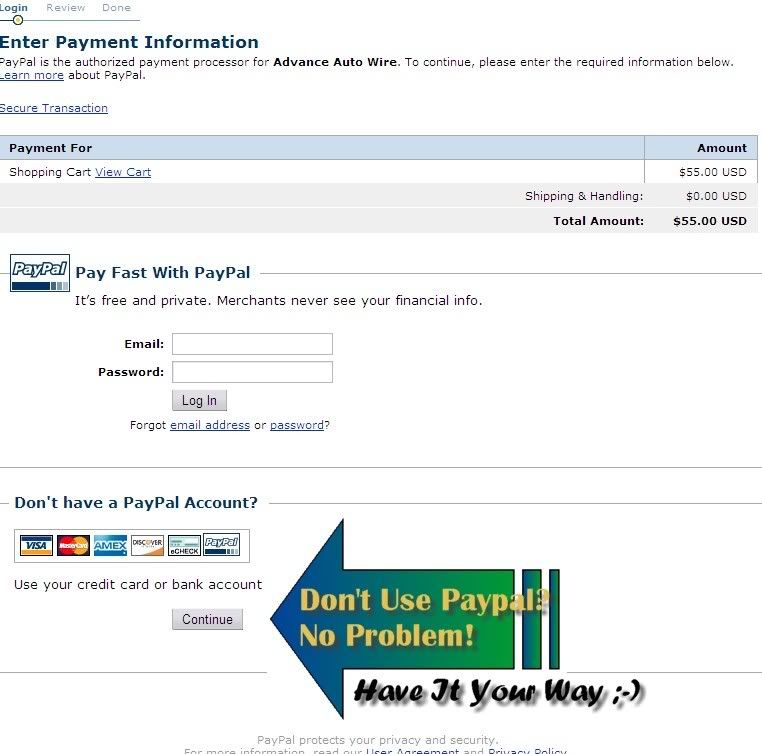 Zoom In
PayPal has been a Great Business Partner for Us. I have heard all kinds of "Bad" experiences other Paypal members have had-- usually, they are eBay Issues. But, I haven't had an Issue with Paypal since I started back in December 2005.
We also have a Paypal-Visa Business Card that we use a Lot. As a Matter of Fact, it is the Only VISA Provider that Calls Me every once in a while to verify my Purchases for a Given period of Time-- Now, I call that Security & Service. Nobody else in my Wallet goes that Extra Mile ;-)
Paypal is No Different than any other Business Merchant Account provider... they are just a little Bit Bigger is All & Do a Hellva Lot more Transactions around the Globe than Anybody Else ;-)
So,
Have It Your Way! -- You DON'T Have to be a PayPal Member to Use PayPal's Merchant Services.
Just Click the



Button! on Your Way Out