Click Here if you Don't See the Side Panel to the Right
My Puerto Rico Days with Dale & Wendy (Tinster)
Dale's 1969 TR6 "Crypt Car" Rises from the Grave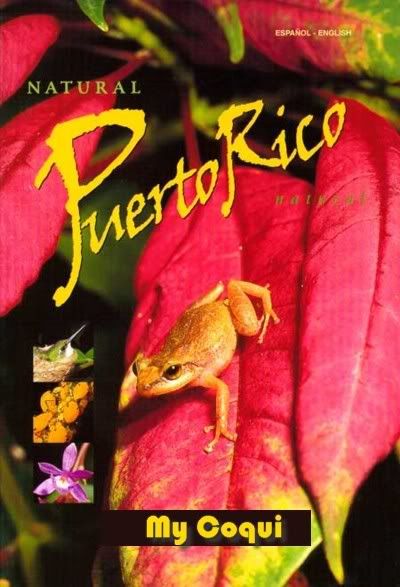 ... and the Coqui Frogs that Chirps like Birds ;-)
The 1st week of October 2006, I was Invited to Puerto Rico to Help Dale Resolve his TR6 Powerblock Installation issues... and if we Got Lucky, We would take off and Explore the Island Together.
First and Foremost, I want Everybody to Know that on the Good Ship Earth, Dale & Wendy are Rare Birds indeed to make Memories with. They are Simple & Down to Earth Folks just having a Blast Day to Day on a Beautiful Island... Anchored between the Atlantic & the Caribbean Sea ;-)
Secondly, I would like to Express to all U Gearheads out there that Know Dale--- Dale has Taken a lot of Vapor-Ware and Turned it into Something Functional... without much Assistance from Anybody on the Island. Now, Dale's Methods maybe a Bit Paradoxical, but his End Results are Usually Quite Superb, All Things Considered ;-)
I arrived in San Juan Late Afternoon due to some Misfortunes on my Journey South from Atlanta. In Miami my scheduled last Leg Broke Down... My Plane Died on the Tarmac, Fortunately ;-) No Big Deal because there were (2) flights schedule for San Juan that day, and they Pulled up a Big Airbus 300 to Take us down in Comfort... Nice ;-)
My Last name is not that Common, so I was very Fortunate to have met another
Masters
on the plane. I found my seat in the Rear of the Plane. A few moments later a Guy comes back and Sits right in front of Me and he is Conversing with a Lady in front of him, "There is a Mike Masters on this Plane. My Boarding Pass was Rejected and the Flight Crew had to Check my Identification before letting me Board the Plane..."
Amused, I chimed in... "Hi. I am Mike Masters!". We Laughed & Hit it Right Off all the Way down to San Juan. Fifteen minutes into the Flight, We were Sitting & having a Few Beers Together ;-)
Cruising Low over the City of Old San Juan from the North was Pretty Neat... I felt like Colonel Kilgore (Robert Duval, Apocalypse Now) Flying in Heavy over the Rocks, Beach, Fort, & Village--- minus the Music.
Touch down was Nice & Easy too-- the Fastest Runway Taxi trip in My Life. But to no avail, Murphy Stepped right up, again-- and Misplaced my Luggage. Dale was beside himself-- go Figure. Dale has been living this Way since he has been Trying, Desperately Hard to Receive a Gift from his wife, Wendy--- the Crypt Car!! I put in my claim with instructions on where to Deliver it to Dale's House and Walked onto Puerto Rico for the 1st Time in Life-- I had always wanted to Visit the Caribbean. Key West was as Close as I had come to the Most Southern Point of the US in my Earlier Years.
By the Time we Departed the Airport, it was becoming Dusk. Dale quickly Navigated the Way Home & Whipped Us into the Grocery store for some Replacements. Not only was my personal effects Lost in the Luggage, so was my friend Ezra Brooks--- Bummer. Unfortunately, I had to Choose between Jack & Jim-- Oh, Well...
While attempting to Leave the Grocery store Dale tried to get a Cup of Coffee from a Machine--- Ha, Ate his Money!!! I telling You Folks-- It's
True!
Dale is extremely Lucky if an ATM will give him any Cash! ... All Things Electric Don't Like Dale ;-)
In a Flash we were at Dale & Wendy's Casa-- Dale just couldn't Wait to Open the Garage door to Show me the Crypt Car! I just said, "Nice,... Manaña. Where's the Ice, please?"
We Hung outside in this Garden of Eden that Wendy has Sculptured Over the Years that had more things Tropical than you had Fingers & Toes. An Quaint Kidney shared Pool nicely placed in the Corner & a Fantastic View of Night Lights over the Wall.
Unfortunately, Dale's Christmas Lights were not Working Down the Wall & on his Palm Tree and He was Puzzled about That... until Wendy joined Us--- and then Boom! They were Glowing their vibrant Colors of Joy ;-)
After an Hour or So, I began to Hear these Birds Chirping all Around Us. Dale was quick to Point out that it wasn't Birds, They were Frogs! Frogs? Yes, we call them
Coquis
... named after the Gentle Whistle they Make.
Neat!
Wendy had Snuck upstairs to turn on the Air for Me-- Thank the Man for Air Conditioning... 'cause I don't do well Sleeping in Humid 90s Weather. One Entire Day of Travel Concluded,... Night, Night ;-)
More to Come...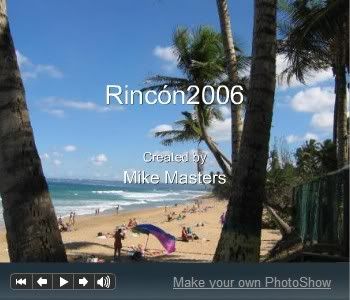 Meanwhile, Watch the Show from Rincón, Puerto Rico.
Enjoy these Webshot Gallery Links!!