Click Here if you Don't See the Side Panel to the Right
Bad News from Puerto Rico...
While I was in Bogota,
Dale
,
Dale2
sent me a Email about the Latest Demise of the Crypt Car-- Abandoned on the Side of the Road with the Keys in the Ignition ;-)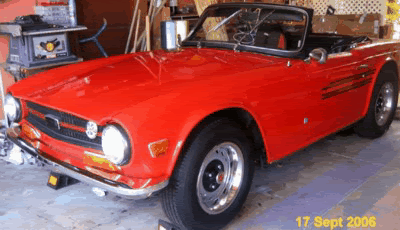 After returning from Bogota, I called Dale to get the Scoop on the Ole Crypt Car. He told me that the Tranny froze up during a (6) minute ride and that he had to have help to push it off to the side of the road. At that Moment... he decided to throw in the Towel-- and I don't blame him either.
Further bad news was Confirmed the other day... Dale swore that the Crypt Car would wind backup at his place since everybody knows it is his car, right? No kidding-- in a few days it showed up in his Driveway... fortunately, the Car Crusher is just Down the Road a little Bit.
If you need Parts, you better inquire soon!
Cheers!
M
PS: Oh, I almost Forgot... there is a Brand New Powerblock under that TR6 Bonnet that is about to be Crushed-- Monty Hall - Let's Make a Deal!